#CopingWith is CCM's interview series run by managing editor Joanna C. Valente

---
Lauren Hilger's debut collection, "Lady Be Good," just came out on October 31, 2016 from CCM. Clearly, we're pretty excited to bring her gorgeous book out into the world–so excited that we interviewed her about it. Except instead of asking her boring lit questions, our managing editor Joanna C. Valente asked her about everything else instead, like what her favorite meal and gif are.
Here's what Lauren had to say:
Describe your favorite meal.
The Italian Christmas Eve seven fishes, but the next morning, for breakfast. Heaven. This makes me sound like a cat, but I think about it all year.
What music do often you write to, if at all?
Chet Baker.
How would you describe your gender?
I present as high femme.
What are three books that you've always identified with? 
Edna St. Vincent Millay's Fatal Interview: Sonnets, Anne Brontë's Agnes Grey, Mikhail Bulgakov's Master and Margarita. 
Choose one painting that describes who you are. What is it?
Gustave Courbet's Self-Portrait (The Desperate Man.) Not with fear, but awe, and always grabbing my hair.
Choose a gif that encompasses mornings for you.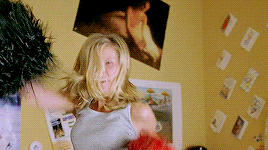 What do you imagine the apocalypse is like? How would you want to die?
I once got stuck in a blizzard, in the Canadian wilderness, on a horse. It was just hours on a horse with my legs numb. I was with my friends, but we each were on our own horse so we couldn't communicate. We also couldn't see beyond the few feet ahead. We'd start getting warm and sleepy then would laugh because we knew that was a bad sign. It was funny and profound and excruciating and stunningly beautiful, too. So, like that.
If you could only watch three films for the rest of your life, what would they be?
The Third Man, All About Eve, Niagara.
How would you describe your social media persona/role?
On Twitter, making jokes to the void, at which no one laughs.  
What's your favorite animal and why?
Humans! Because we can make fire and music and art.

What do you carry with you at all times? 
My friend Rowan Hisayo Buchanan gave me this porcelain key in a tiny cloth envelope. I used to carry an antler with me, not all the time, but enough. I've accepted the porcelain key as a reminder to be easier. To be gentler, too, since it's fragile.
---
Lauren Hilger is the author of Lady Be Good (Civil Coping Mechanisms, 2016.) Awarded the Nadya Aisenberg Fellowship from the MacDowell Colony, where she was a fellow in 2012 and 2014, her work has appeared in Gulf Coast, Harvard Review Online, Kenyon Review Online, and Massachusetts Review, among other journals. She serves as a poetry editor for No Tokens.
Joanna C. Valente is a human who lives in Brooklyn, New York. She is the author of Sirs & Madams (Aldrich Press, 2014), The Gods Are Dead (Deadly Chaps Press, 2015), Marys of the Sea (ELJ Publications, 2016), & Xenos (2016, Agape Editions). She received her MFA in writing at Sarah Lawrence College. She is also the founder of Yes, Poetry, as well as the managing editor for Luna Luna Magazine and CCM. Some of her writing has appeared in Prelude, The Atlas Review, The Feminist Wire, BUST, Pouch, and elsewhere. She also teaches workshops at Brooklyn Poets.