#CopingWith is CCM's interview series run by managing editor Joanna C. Valente
---
Bud Smith is the author of his new book and memoir "Work," which will be released September 18, 2017 from CCM. Besides that, however, Smith is the author of numerous books, including "Dust Bunny City," a collaboration with Rae Buleri, and the publisher of Unknown Press.
Of his book, Scott McClanahan said, "Bud Smith is one of the only writers I don't mind hanging out with in real life. I've seen Bud Smith sober and I've seen Bud Smith drunk. He's great either way."
Luckily, he talked to me about his favorite gif, meal, and apocalypse plans:
Describe your favorite meal.
I get the falafel platter usually, it's a couple bucks. Ibby's Falafel on Grove Street in Jersey City. They didn't have mediterranean food where I grew up, down in the suburbs. We used to just eat fish sticks. My dad used to burn them all the time in the oven. I don't think city kids had to grow up eating burnt fish sticks. They got to eat falafel platters. Stuff off a halal cart. Sushi. Bodega snacks. Pizza from a window hanging over the street.
What music do often you write to, if at all? 
Nothing really. My apartment is really loud. There's a lot of noise from the cars thundering down Kennedy Blvd. But I like that. I can hear their radios when they get stuck at the light. We live on the corner. So sometimes there's multiple radios playing multiple songs. I also like when someone gets a phone call and the song stops and the ringing telephone plays through their stereo because of bluetooth. If I'm writing at work, I don't listen to music there either. It's so loud there, too. Split your head right open for ya.
What are three books that you've always identified with?
Three novels I've reread a bunch of times are Canary Row by John Steinbeck, In Watermelon Sugar by Richard Brautigan, and Breakfast of Champions by Kurt Vonnegut. I identify as a weird old white dead guy.
Choose one painting that describes who you are. What is it?
I bought an abstract painting from Illeen Kaplan Maxwell because it makes no sense to me but its endlessly pretty, just like I want my life to be. It's hanging on my living room wall and I look at it all the time. It's over my left shoulder right now and it makes me irrationally happy.
Choose a gif that encompasses mornings for you.
I usually work out with my red panda on the rings, so this one: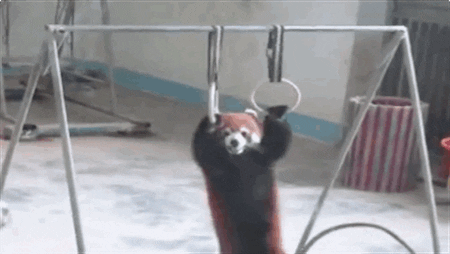 What do you imagine the apocalypse is like? How would you want to die?
The apocalypse would be if you couldn't block anybody on social media. Or even worse, if you could pretend to still be friends but you couldn't mute them, or unfollow them. I'd want to die choking to death on the falafel platter from Ibby's Falafel on Grove Street in Jersey City, while unfollowing/muting every single person I still follow on social media.
If you could only watch three films for the rest of your life, what would they be?
Overboard with Goldie Hawn and Kurt Russel. My Cousin Vinny with Marissa Tomei and Joe Pesci. Game of Thrones – it'll basically be a 75+ hour movie when it's all done. It's got everything: naked ladies, naked guys, naked dragons, naked dire wolves, naked crows, even some naked horses.
How would you describe your social media persona/role?
Unfollowing/muting everybody I'm still friends with while choking to death. Also, blocking some people.
What's your favorite animal and why?
My red panda that I work out with every morning on our gymnastic rings. He's a lot of fun and I don't have to feed him because he just eats the cockroaches that are wandering around our apartment.
What do you carry with you at all times? 
Kohl's cash. 24/7/365
---
BUD SMITH is the author of Dust Bunny City (Disorder Press) and F-250 (Piscataway House). He works heavy construction and lives in New Jersey.
Joanna C. Valente is a human who lives in Brooklyn, New York, and is the author of Sirs & Madams (Aldrich Press, 2014), The Gods Are Dead (Deadly Chaps Press, 2015), Marys of the Sea (The Operating System, 2017), Xenos (Agape Editions, 2016) and the editor of A Shadow Map: An Anthology by Survivors of Sexual Assault (CCM, 2017). Joanna received a MFA in writing at Sarah Lawrence College, and is also the founder of Yes, Poetry, a managing editor for Luna Luna Magazine and CCM, as well as an instructor at Brooklyn Poets. Some of their writing has appeared, or is forthcoming, in Brooklyn Magazine, Prelude, Apogee, Spork, The Feminist Wire, BUST, and elsewhere.