#CopingWith is CCM's interview series run by managing editor Joanna C. Valente
---
Dolan Morgan's book, "Insignificana," came out on March 11, 2016 from CCM. Of the book, Nelly Reifler has said, "Dolan Morgan is eccentric, brilliant, radical, and a bit perverse: that we already knew. In this new collection he is also zealously obsessive. Over and over, organisms and other entities consume, absorb, impregnate, digest, gestate, house, eliminate, birth, and extrude other organisms and entities–or themselves. And the author himself seems to both consume and be consumed by his narrators. Cumulatively, these stories force their readers to submit to the truth: interior and exterior are mere conceits, and all of existence–including puny humans–is already inside out. Dolan Morgan's writing makes my brain itch in the most pleasant way. Insignificana is an extraordinary book, a thrill ride of temporary madness and irrefutable sense."
As such, we interviewed him about his book, although instead of asking boring lit questions, our managing editor Joanna C. Valente asked Dolan about everything else instead, like what his favorite meal and apocalypse plans are.
Here's what he said:
Describe your favorite meal.
Once, many years ago, a friend woke me in the middle of the night to offer me a plate of warm, buttered toast in the dark. I'd been asleep for hours. It was snowing. The city was silent. Blankets were everywhere: around my body, across the apartment, out the window, and into the street. Blankets all the way down. I could barely understand what was happening, but here was a plate of sudden toast. I laughed into my hands and mumbled through impossible mouthfuls of bread, unsure of where I was or what we were doing. The room appeared larger than I remembered amid fever, delirium, and joy; under crumbs, the city, and a dim bedside lamp. I can sense now, more so than I could then, too, that those years of my life were marked by an acute loneliness and uncertainty.
Like most of us, I am often shocked to have emerged from any kind of past into the present moment. After the accident, you step from the vehicle into the street, relieved and unharmed. But when you look back at the car, mangled and unrecognizable, you absorb the fear that should have been there in the first place. I suspect I was very much afraid of something in those years. Or, at least, afraid of something other than the fear that animates me today. I have tried to enjoy the experience of becoming alien to myself. I don't remember a moment immediately before or after that meal, and can no longer say how that night fits into the surrounding months or years, or when and how that particular loneliness and uncertainty abated (giving way to other types of solitude and confusion, among other innovations), but I do recall standing in rooms, not understanding where to look or what to do with my hands or how to speak to another person. And then: warm midnight toast in a snow-quiet darkness. Until that moment, I didn't even like toast. Honestly, I still don't. This is my favorite meal.  
What music do you often write to, if at all?
Lately, it's been a lot of Mogwai. Another favorite is Steve Reich's "Music for 18 Musicians." Anything by Kate Bush will do, especially "Hounds of Love" and "The Dreaming." But! It's maybe disingenuous to say I really listen to any of these. That is, if things are going well, I won't notice when the record ends, and then I'll be listening to silence/nothing, which is the real goal. Like so many other things in life, I have to fool myself into what I want. Always, you have to walk backwards into nothingness.
What are three books that you've always identified with?
"Always" would be a stretch, but for 15-20 years: Slouching Towards Bethlehem, The Bald Soprano, and Sphere.
Choose one painting that describes who you are. What is it?
You remember that time someone tried to retouch and "fix up" an old, fading painting of Jesus? And it ended up looking like a kid's drawing of a bear or a baboon? That all sounds like me Not the Jesus part, but the obliviousness and earnest failure. I feel like I'm making accidental baboons and bears all of the time while shooting for some big bowl of wonder. And that's fine. Failure is good, as are bears and baboons. Always. And while we're on the subject of failure: I also have a painting of Jesus that I drew over. I bought a cheap knockoff version of "The Last Supper" and used a can of gold spray paint to scrawl TRY HARDER across it in huge letters. I look at it every day.
Choose a gif that encompasses mornings for you.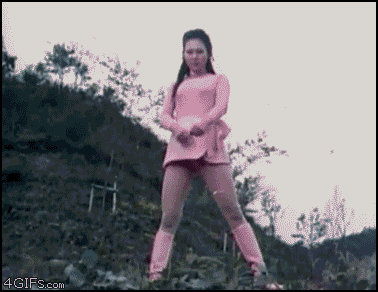 What do you imagine the apocalypse is like? How would you want to die?
I wrote a book about that.
If you could only watch three films for the rest of your life, what would they be?
This is a tough question. Not because I can't think of three movies that I'd love to watch again and again (of course I can), and not because I'm unable to create a list of movies I'd be happy to never see again (a list which might, by process of elimination, help me better name the films I'd love to be constrained to for the rest of my life). No, my preferences are not the hard part. Rather, the hard part here is submitting to the context. Any world in which I might be forced to watch only three movies sounds like some kind of dystopia. So imagining the answer to the question, "what would they be," demands starting not from my own tastes but from the premise, constraints, and political climate of that dystopia and the whims of those who preside over it. What would they want us to watch? What would they not want us to watch? This line of thinking immediately leads to more complication–because, it seems easy enough to imagine that they might not want us to watch any of the movies that currently exist at all, nor any of the movies that could reasonably come into existence in the near future.
So, I'd be hard pressed to pick three or even one. Sure, it's easy enough for me to conceive of a fantastical regime hell-bent on a hyperbolic extension of Walt Disney's vision for the world (of course), and I can easily enough imagine that citizens in this new society might be broken into groups or classes, and that these groups/classes might each be responsible for watching, understanding, preserving and celebrating three animated films from Disney's cannon (such that one group gets Aladdin, The Little Mermaid, and Fantasia, while another group gets The Aristocats, Beauty and the Beast, and Frozen, and so on), which they are forced to watch exclusively and extensively between grueling 12-hour maintenance shifts presiding over the nation's crumbling theme park rides and concession stands, and that they understand their world entirely through the limited lens of these creations and demands (and where they ultimately intersect, the marriage between entertainment and work, forever)–yes, I can Imagine that, but my ability to conceive of this world means nothing for its likelihood (other than that: real terror is usually beyond our initial conceptions, and so any inkling or prediction of terror might be as good a sign as any that it's unlikely to arrive, but that something much worse and unimaginable is instead barreling toward us).
Which brings me back to your question, which I'll have to answer in somewhat general terms. If I could only watch three films for the rest of my life, I think those movies would most likely be brand new creations of the dystopian regime's own design, intended to keep me in line and on track. Probably some kind of propaganda or re-education films, I guess, and no doubt I would be thankful for them, for any kind of wonder or awe or connection.  
What's your favorite animal and why?
DOG. Is this a trick question? The answer is DOG.
What do you carry with you at all times?
Warm, buttered toast or nothing at all, and usually both.
---
Dolan Morgan lives in Greenpoint, Brooklyn. He is the author of two story collections: INSIGNIFICANA (2016) and THAT'S WHEN THE KNIVES COME DOWN (2014).
Joanna C. Valente is a human who lives in Brooklyn, New York. She is the author of Sirs & Madams (Aldrich Press, 2014), The Gods Are Dead (Deadly Chaps Press, 2015), Marys of the Sea (ELJ Publications, 2016), & Xenos (2016, Agape Editions). She received her MFA in writing at Sarah Lawrence College. She is also the founder of Yes, Poetry, as well as the managing editor for Luna Luna Magazine and CCM. Some of her writing has appeared in Prelude, The Atlas Review, The Feminist Wire, BUST, Pouch, and elsewhere. She also teaches workshops at Brooklyn Poets.