#CopingWith is CCM's interview series run by managing editor Joanna C. Valente
---
Jacklyn Janeksela is the author of her book "fitting a witch//hexing the stitch," was released in June 2017 (The Operating System). Besides that, however, Janeksela was also a contributor in CCM's anthology "A Shadow Map."
Of her book, Juliet Escoria said, "Like all good poetry, Jacklyn Janeksela's poetry is a straddler – occupying the future and the past, the earthly world of pigtails and red dresses as well as the other world of the devil and astral plane. If you read this book, you will become a straddler too, a person who is both enchanted and possessed."
Luckily, she talked to me about her favorite gif, meal, and apocalypse plans:
Describe your favorite meal.
My own heart on a plate.
What music do often you write to, if at all?
I require silence or whatever sound nature gives me for the day.
In between, you can catch me floating on Bosnian Rainbows or diving into Swans. Anything that's not fucking around with sound or art, voice & vulnerability —experimental mayhem. I melt over Motorama and Marilyn Manson; Small Depo, Soft Kill, SQÜRL. Plus stuff like LA Witch, Dead Rabbits, Tropic of Cancer, Chelsea Wolfe, The Ghost Ease, Froth, Blood Orange, Savages, Mi Pequeña Muerte, & Mary Bell. Of course, Tori Amos & The Cure are always present –like always & forever in a seriously obsessed can't-get-you-outta-my-mind-or-heart kinda way. I have a band –The Velblouds, so I listen to myself + one, often.
What are three books that you've always identified with?
The Fear of Flying, Confessions of an Opium Eater, Steppenwolfe/Damien/Siddhartha (tied for 3rd).
Choose one painting that describes who you are. What is it?
One? Jesus, I see one per day that expresses who I am or what I feel. I refuse to pick just one, but I will say that Remedios Varo, Leonora Carrington, Aleksandra Waliszewska, Seigfried Zademack, & Frances Bacon are of the same soul energy & vibration.
Choose a gif that encompasses mornings for you.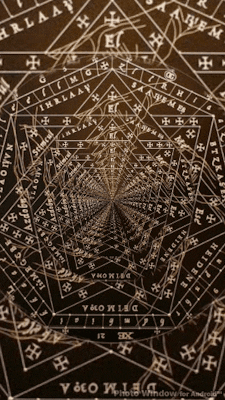 & if you were curious, here are my nights: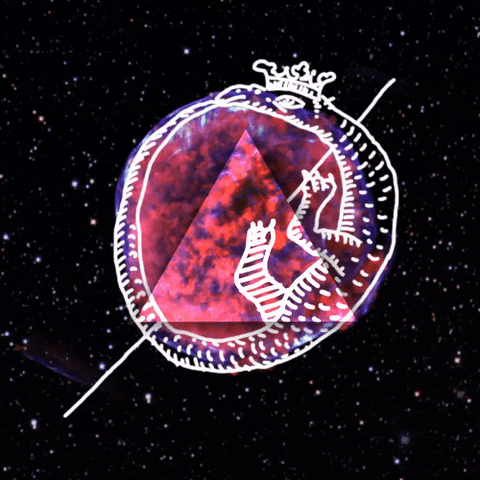 What do you imagine the apocalypse is like? How would you want to die?
The apocalypse is an invention to frighten us; and it serves its purpose. It looks like whatever I want it to look like and is equal to how I envision self & life. I don't want to die so I won't. And death is but a word, a concept; and I'm friends with death, we're cool like that. But should I have to choose a way to go, for example because of an interview, I'd say during orgasm due the proximity of death.
If you could only watch three films for the rest of your life, what would they be?
Last Lovers Left Alive, Jules et Jim, and Django/Santa Sangre/Edward Scissorhands (tied for 3rd).
How would you describe your social media persona/role?
Mission: support art, humans, and awakening. But I try to be more focused on my terrestrial persona/role because the internet will die one day; I don't want to lose touch with myself too much and forget how to be a human.
What's your favorite animal and why?
Cats because they are mediums; so are rabbits. But one day I will have a goat on a farm somewhere far away. All animals are gods, that's why I don't eat them.
What do you carry with you at all times?
Pen, paper, magic, water, stones.
---
jacklyn janeksela is a wolf and a raven, a cluster of stars, &  a direct descent of the divine feminine.  jacklyn janeksela can be found @ Thought Catalog, Luna Magazine, Talking Book, Three Point Press, DumDum Magazine, Visceral Brooklyn, Anti-Heroin Chic, Public Pool, Reality Hands, Mannequin Haus, Velvet-Tail, Requited Journal, The Feminist Wire, Word For/Word, Literary Orphans, Lavender Review, & Pank.  she is in a post-punk band called the velblouds. her baby @ femalefilet.  more art @ artmugre & a clip.  her first book, fitting a witch//hexing the stitch, will be born in 2017 (The Operating System).  she is an energy.  find her @ hermetic hare for herbal astrological readings.
Joanna C. Valente is a human who lives in Brooklyn, New York. She is the author of Sirs & Madams (Aldrich Press, 2014), The Gods Are Dead (Deadly Chaps Press, 2015), Marys of the Sea (The Operating System, 2017), & Xenos (2016, Agape Editions). She received her MFA in writing at Sarah Lawrence College. She is also the founder of Yes, Poetry, as well as the managing editor for Luna Luna Magazine and CCM. Some of her writing has appeared in Prelude, The Atlas Review, The Feminist Wire, BUST, Pouch, and elsewhere. She also teaches workshops at Brooklyn Poets.