#CopingWith is CCM's interview series run by managing editor Joanna C. Valente
---
Sean H. Doyle's debut book, "This Must Be the Place," came out on May 1, 2015 from CCM. Of the book, Jim Ruland has said, "Sean H. Doyle is a punk rock sailor shaman with a message from way down below decks where the guys with horns and hooves go jet skiing on a lake of fire. This Must Be the Place is a ferocious testament to love and loss written with razor blades and backed with blood. An unputdownable debut." I can personally attest to Sean's passion for the written word, for finding one's own personal truth, for understanding when to throw out that truth, and for being a visionary who isn't afraid to tell a story, blemishes and all.
As such, we interviewed him about his book, although instead of asking boring lit questions, our managing editor Joanna C. Valente asked about everything else instead, like what his favorite meal and gif are.
Here's what he told us:
Damn. Well, I love to cook and spending time in the kitchen is one of the best parts of any day for me, so I have a lot of favorites I go back to. I'm carnivorous as all get-out, so I really love to take a nice cut of red meat and rub it down with some coffee, sea salt, and pepper and throw it in the broiler for a while. Always goes well with some spinach salad and roasted sweet potatoes. If you want to eat, email me, I'm down.
What music do often you write to, if at all?
I try to stay as instrumental as possible, unless there is something I'm trying to achieve that words can help break loose a little. I'm a huge Steve Reich acolyte, so all of his work and anything else that pulses in that way is good for me. Lots of ambient drone stuff, too. Nick Cave always helps goose the romantic in me, which is something I am trying to embrace a little more in my upcoming work. All the old punk rock I grew up on when I know there is something deep in the meat of me that needs to come out.
How would you describe your gender?
I am a lover.
What are three books that you've always identified with?
Only three? Shit. Since I've read them, or since I knew they existed? I am answering your question with questions to stall. Fine. Three books.
"The Hagakure."
"The Hotel New Hampshire."
The Torah
Choose one painting that describes who you are. What is it?
My buddy Tim Kent is a brilliant artist and a good dude. He did this painting that murdered me when I saw it, called "The Night's Heir," and I totally see me in the horse. Open to the bone with exposed innards and meat, as if it were an everyday happening.
Choose a gif that encompasses mornings for you.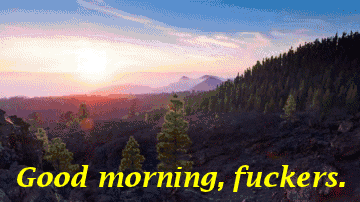 What do you imagine the apocalypse is like? How would you want to die?
My own apocalypse is my inability to get shit right the first four or fives times I try. I imagine the actual apocalypse is what we're living right fucking now. Climate change and war and violence in every city pushed by the people in power who don't want to lose their power and no money going toward education and hate and racism getting louder and hunger and prisons for profit and the drug wars and cellphones and anger anger anger. Don't worry, though. The oceans will clean this all up and the salamanders will take over the earth soon enough.
I've dealt with more than my fair share of trauma in this life, so I would like to die in my sleep.
If you could only watch three films for the rest of your life, what would they be?
Only three? Fuck. Alright, here we go:
"Mean Streets."
"Dumb and Dumber."
Any Kurosawa film will do.
How would you describe your social media persona/role?I have a very hot/cold relationship with social media. I have quit every platform at one point or another and come back to them. I think I use each one differently and always have. Facebook is definitely kind of sincere and a little bit over the top for me. I try not to nudge people too much there, folks get sensitive and then have too much room to say whatever they want. I don't want to hear or read any of that, I have my own demons. I use Instagram as a marker of sorts. Anyone who follows me there knows they will get photos of clouds and churches and dogs who come into the coffee shop where I work, with occasional videos of me zoning out on guitar.
Twitter is another beast and I still have no fucking clue why I came back to it. I mostly use it as a steam valve and try not to govern myself too much. Hilariously, these are all facets of my real self. On Tumblr, I definitely try to write a little more and try to open myself up a bit. Kind of like a proving ground for longer pieces of work or work that might end up being a "thing."As far as roles go? Who says I should have one? I'm just being alive.
 What's your favorite animal and why?
My dog, Gracie. Because she fucking rules.
 What do you carry with you at all times?
Hope.
---
Sean H. Doyle lives in Brooklyn, NY. He works hard every day to be a better person and is learning how to love himself more. His book, This Must Be The Place, is forthcoming from CCM in 2015. For more information on Sean and his work visit his website at www.seanhdoyle.com or follow him on Twitter @seanhdoyle
Joanna C. Valente is a human who lives in Brooklyn, New York. She is the author of Sirs & Madams (Aldrich Press, 2014), The Gods Are Dead (Deadly Chaps Press, 2015), Marys of the Sea (ELJ Publications, 2016), & Xenos (2016, Agape Editions). She received her MFA in writing at Sarah Lawrence College. She is also the founder of Yes, Poetry, as well as the managing editor for Luna Luna Magazine and CCM. Some of her writing has appeared in Prelude, The Atlas Review, The Feminist Wire, BUST, Pouch, and elsewhere. She also teaches workshops at Brooklyn Poets.