#CopingWith is CCM's interview series run by managing editor Joanna C. Valente
---
Stephanie Valente is a contributor in our anthology "A Shadow Map," which is due for release on February 22, 2017 (although it will also be launched at AWP this year in DC). Stephanie is also the authors of a chapbook "Hotel Ghost," published by Bottlecap Press. Of the chapbook, the press states, "There is a sense of urgency in the relationship between longing and desire. The poems take turns between different ghosts: the acts of dreaming and lingering."
As such, we interviewed her about her feature and chapbook, although instead of asking boring lit questions, our managing editor Joanna C. Valente asked her about everything else instead, like what her favorite meal and apocalypse plans are.
Describe your favorite meal.
Grilled cheese and tomato soup. Really good seafood, particularly clams. Grilled salmon. Cheeseburgers, of course. Pizza. Cannolis. And always chocolate
What music do often you write to, if at all?
It ranges from classics like the Clash and David Bowie to dreamy vibes like the Cocteau Twins and Aphex Twin. I also like to take long walks and listen to whatever album I'm currently obsessing over to clear my head and get new inspiration.
What are three books that you've always identified with?
I always reread these three books and constantly recommend them because they pulled on something deeply within me:
1. Crush by Richard Siken
2. Autobiography of Red by Anne Carson
3. The Anatomy of Being by Shinji Moon
Choose one painting that describes who you are. What is it?
Currently, The Lovers – Rene Magritte.
Choose a gif that encompasses mornings for you.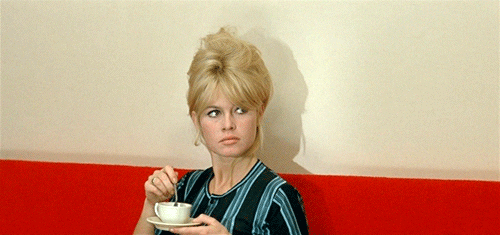 What do you imagine the apocalypse is like? How would you want to die?
I have a feeling it wouldn't be half as interesting as all of those novels led me to believe. As for dying, I'm not sure if I want to be around for it or not.
If you could only watch three films for the rest of your life, what would they be?
That's a tough one.
1. Twin Peaks (a tv show counts, right?)
2. Beetlejuice
3. Romeo + Juliet

How would you describe your social media persona/role?
Funny, curious, dreamy, mysterious.
What's your favorite animal and why?
Dogs, of course. They're magical. But, I was always drawn to zebras as a kid. They're sassy.
What do you carry with you at all times?
A notebook, pen, and nude lipstick.
---
Stephanie Valente lives in Brooklyn, NY. She has published Hotel Ghost (Bottlecap Press, 2015) and has work included in or forthcoming from Danse Macabre, Nano Fiction, and Black Heart. Sometimes, she feels human. http://stephanievalente.com
Joanna C. Valente is a human who lives in Brooklyn, New York. She is the author of Sirs & Madams (Aldrich Press, 2014), The Gods Are Dead (Deadly Chaps Press, 2015), Marys of the Sea (ELJ Publications, 2016), & Xenos (2016, Agape Editions). She received her MFA in writing at Sarah Lawrence College. She is also the founder of Yes, Poetry, as well as the managing editor for Luna Luna Magazine and CCM. Some of her writing has appeared in Prelude, The Atlas Review, The Feminist Wire, BUST, Pouch, and elsewhere. She also teaches workshops at Brooklyn Poets.