#CopingWith is CCM's interview series run by managing editor Joanna C. Valente
---
Wendy C. Ortiz's book, "Bruja," came out on October 31, 2016 from CCM. Of the book, Roxane Gay has said, "In Bruja, Wendy C. Ortiz deftly navigates the land of dreams in what she calls a dreamoir. By telling us her dreams, by revealing her most unguarded and vulnerable self, Ortiz is, truly, offering readers the most intimate parts of herself–how she loves, how she wants, how she lives, who she is. Bruja is not just a book–it is an enigma and a wonder and utterly entrancing."
As such, we interviewed her about her book, although instead of asking her boring lit questions, our managing editor Joanna C. Valente asked her about everything else instead, like what her favorite meal and apocalypse plans are.
Here's what she said:

Describe your favorite meal. 
Vegetable samosas, chicken or lamb vindaloo (v. spicy), saag paneer (med. spicy), basmati rice, garlic naan, kheer with a little cinnamon on top.
What music do often you write to, if at all? 
It depends on what I'm writing–I'll listen to whatever music was important to me at the time of the events I'm writing about. Writing about adolescence I rely a lot on 80s music: The Cure, Psychedelic Furs, Love & Rockets, David Bowie, Depeche Mode. Writing about when I first moved back to Los Angeles: Kid A on repeat, X, Neko Case.
How would you describe your gender? 
Mildly feral tomboy/femme who cleans up and domesticates well enough.
What are three books that you've always identified with?
May I have the rest of my life to think about this, please?
Choose one painting that describes who you are. What is it?
It's ink and color on paper. Naruto Whirlpool, Awa Province by Utagawa Hiroshige.
Choose a gif that encompasses mornings for you.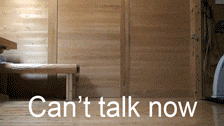 What do you imagine the apocalypse is like? How would you want to die?
We're in it, it's just moving like the arctic ice melt. If I must succumb to the worst of it, I want to die by my own hand. Cyanide.
If you could only watch three films for the rest of your life, what would they be?
Cabaret
Apocalypse Now<
The Shining
How would you describe your social media persona/role?
Facebook: most outer layer
Twitter: second layer
Instagram: third layer
Tumblr: fourth layer
Snapchat: occasional deepest layer
What's your favorite animal and why?
Cats for all the cliché reasons: they're self-sufficient, they don't give a shit about you, they expect worship, they're smart, they're beautiful…but also they are amenable to living with me.
What do you carry with you at all times?
Glow.
---
Wendy C. Ortiz is a Los Angeles native. She is the author of Excavation: A Memoir (Future Tense Books, 2014), Hollywood Notebook (Writ Large Press, 2015), and the forthcoming dreamoir Bruja (Civil Coping Mechanisms, Oct. 31, 2016).
Her work has been profiled or featured in the Los Angeles Times, Los Angeles Review of Books, The Rumpus, and the National Book Critics Circle Small Press Spotlight blog. Her writing has appeared in The New York Times, Hazlitt, Vol. 1 Brooklyn, The Nervous Breakdown, Fanzine, and a year-long series appeared at McSweeney's Internet Tendency.
Joanna C. Valente is a human who lives in Brooklyn, New York. She is the author of Sirs & Madams (Aldrich Press, 2014), The Gods Are Dead (Deadly Chaps Press, 2015), Marys of the Sea (ELJ Publications, 2016), & Xenos (2016, Agape Editions). She received her MFA in writing at Sarah Lawrence College. She is also the founder of Yes, Poetry, as well as the managing editor for Luna Luna Magazine and CCM. Some of her writing has appeared in Prelude, The Atlas Review, The Feminist Wire, BUST, Pouch, and elsewhere. She also teaches workshops at Brooklyn Poets.