#CopingWith is CCM's interview series run by managing editor Joanna C. Valente
---
Christine Stoddard is a contributor in our anthology "A Shadow Map," which was released on February 22, 2017. Besides that, however, Stoddard is the editor and founder of Quail Bell Magazine.
Luckily, Stoddard talked to me about her favorite gif, meal, and apocalypse plans:
Describe your favorite meal. Really anything that combines spinach, cheese, and tomatoes, whether it's spinach enchiladas or spinach lasagna. Call me Popeye.
What music do often you write to, if at all? Everything from No Doubt to Debussy.
What are three books that you've always identified with? The Velveteen Rabbit, Love in the Time of Cholera, and Anna Karenina.
Choose one painting that describes who you are. What is it? "The Chick" by Frida Kahlo. Some days, I am the chick. Other days, I am the spider.
Choose a gif that encompasses mornings for you.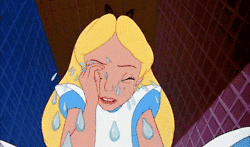 (I am such a night owl.)
What do you imagine the apocalypse is like? How would you want to die? There is no art and there is no cheese. I hope I die in my husband's arms, apocalypse or no apocalypse.
If you could only watch three films for the rest of your life, what would they be? This would be tough for me because I have a voracious film appetite, but I guess I would pick "Amélie," "The Virgin Suicides," and "Moonstruck." My answer might change tomorrow!
How would you describe your social media persona/role? It's decisively fairy punk.
What's your favorite animal and why? The quail because I run Quail Bell Magazine. It's my darling and I can't thrilled to see how it grows.
What do you carry with you at all times? Literally, a book. Figuratively, my imagination.
---
Joanna C. Valente is a human who lives in Brooklyn, New York. She is the author of Sirs & Madams (Aldrich Press, 2014), The Gods Are Dead (Deadly Chaps Press, 2015), Marys of the Sea (The Operating System, 2017), & Xenos (2016, Agape Editions). She received her MFA in writing at Sarah Lawrence College. She is also the founder of Yes, Poetry, as well as the managing editor for Luna Luna Magazine and CCM. Some of her writing has appeared in Prelude, The Atlas Review, The Feminist Wire, BUST, Pouch, and elsewhere. She also teaches workshops at Brooklyn Poets.
Christine Stoddard is a Brooklyn-based writer and visual storyteller who has created or contributed to books, films, museum exhibits, gallery shows, digital campaigns, and more. In 2014, Folio Magazine named her one of the media industry's top 20 visionaries in their 20s for founding Quail Bell Magazine and Quail Bell Press & Productions.