#CopingWith is CCM's interview series run by managing editor Joanna C. Valente
---
Scott Esposito is the author of his forthcoming book "The Doubles," which will be released this fall. Besides that, however, Esposito is the editor and founder of Conversational Reader and The Quarterly Conversation, as well as the Publicity Director and Senior Editor for Two Lines Press.
Of his book, Mathew Specktor said, "Readers of Scott Esposito's Conversational Reading blog already know him to be one of the most perspicacious literary critics in America. But to read The Doubles is to discover something else: that he is as thrillingly insightful about film, and about human experience, as he is about literature. With a bounding intelligence, a tremendous—and seemingly effortless—erudition, with enormous soulfulness, energy and wit, Esposito strains his life through the prism of cinema (or is it the other way around?) and arrives at something magnificent: a work of sustained criticism that is itself a work of high art, and a profound meditation on how the art we see becomes who we are."
Luckily, he talked to me about his favorite gif, meal, and apocalypse plans:
Describe your favorite meal.
What a fantastic question to start with. (I think having good meals, especially with pleasant company, is one of life's most important things.) I once dined on a rooftop in Athens during the summer, with excellent views of the Parthenon. They kept bringing us various foods—salads, roast peppers, cheeses, moussaka . . . and we had a bottle of red wine. It was about 70 degrees, the ambiance was intimate but also felt very urban, we talked for hours. I think that's just about perfect.
What music do often you write to, if at all?
It's almost always either hip-hop or classical, maybe a little jazz sometimes. Something like Future is great to write to: it's very easy to ignore the lyrics and just let the rhythms inhabit you, the sounds inspire you. The minimalists are also great in that way. But really almost any good hip-hop will do . . . once I get immersed in the focus of what I'm writing, it's amazing how much ambient sights and sounds my mind will block out.
What are three books that you've always identified with?
1984 was probably one of the first "adult" books that I read and understood and found utterly compelling. I wasn't terribly literate at that age, so something in me must just resonate very much with that book.
I could also say that same thing about 2001, which I discovered at about the same time—first I saw the movie, and then I read the book (which was written concurrently with the making of the movie). The whole idea that that book and movie sets out to embody still utterly fascinates me.
And Água Viva by Clarice Lispector was a book that I discovered very early on, and was compelled by even though it also completely mystified me. Nowadays it mystifies me much less, also still more than virtually any other book, and I mean that in a good way.
Choose one painting that describes who you are. What is it?
Caravaggio's portrait of Saint Jerome is just about perfect. As a visual aesthetic, an attitude, Caravaggio's work in general feels very true to me. And in Jerome it reaches something like it's ideal form. The intricate folds of that red robe he's wearing, the stark black background, the way he clutches his pencil (I always have a pencil when I read), his focus, that skull to his side to remind him of mortality, that wicked, wispy halo. It's all just perfect.
Choose a gif that encompasses mornings for you.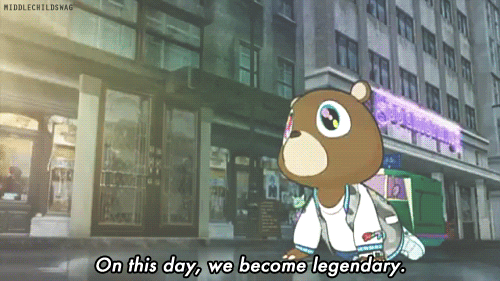 I like to start off the day feeling peaceful and inspired. I try to read a few lines of good poetry if I can, otherwise I just sit there and contemplate the day ahead.
Oftentimes things go seriously down from there, but it's nice to have a good start at least.
What do you imagine the apocalypse is like? How would you want to die?
I think, contrary to popular belief, humanity will find a way to keep propagating itself no matter if we manage to unleash nuclear weapons, or contagions, or evil robots upon ourselves, as seems uncomfortably possible. I think if we end ourselves, it will just be from boredom with the possibilities of being human. Either that or the sun will engulf the Earth, or a catastrophic collision with an extraterrestrial body, and that'll be it.
I think it would be fascinating to die by drifting into a supermassive black hole. According to what I've read, the physics is such that you'd be able to briefly witness the end of the universe, and your own death would be very peaceful.
If you could only watch three films for the rest of your life, what would they be?
I think Richard Linklater's Before Sunrise, to always remember how it is to be young and feel that life is full of possibilities. And Kieslowski's Double Life of Véronique, because it's just so mysterious and lovely. And Kiarostami's Certified Copy, because there are so many layers to it, and it's a perfect love story.
How would you describe your social media persona/role?
My persona is me, albeit a version of me that's preternaturally fascinated with books and cats. My role (which I don't always live up to, but which I do aspire to) is to share information about art and literature, to get people to read books I find amazing, to not let those books be lost in the churn and flow of culture, to inspire people, to be empathetic and encouraging, and of course to also self-promote.
What's your favorite animal and why?
A lot of animals are very fascinating, or are able to do things that I find quite astonishing, but probably the cat is the only animal that I could manage to co-habitate with, so I think I would have to say that one.
What do you carry with you at all times?
For years I've made it a practice to always have a book and a pencil with me whenever I'm out of the house. I fear that's the boring truth of it.
---
Scott Esposito has worked in the field of translated literature for over a decade. He specializes in Latin American and Mitteleuropan literature.
Joanna C. Valente is a human who lives in Brooklyn, New York. She is the author of Sirs & Madams (Aldrich Press, 2014), The Gods Are Dead (Deadly Chaps Press, 2015), Marys of the Sea (The Operating System, 2017), & Xenos (2016, Agape Editions). She received her MFA in writing at Sarah Lawrence College. She is also the founder of Yes, Poetry, as well as the managing editor for Luna Luna Magazine and CCM. Some of her writing has appeared in Prelude, The Atlas Review, The Feminist Wire, BUST, Pouch, and elsewhere. She also teaches workshops at Brooklyn Poets.